DESIGN ART - don't be afraid of art
Who presumes to determine what is art, what is design and what is not?
Nicole Doth does not face the discussion of what is the difference between design and art. Because it complements form follows function to form follows function & emotion. And convinces with
"FUNKTIONALER KUNST" / "FUNCTION ART"
Don't be afraid of art - is Nicole Doth's attitude towards life and ''reflected'' in all her designs. Literally. Früh designs sich: Grown up in a furniture manufactory & designer family in southern Germany with house own carpentry, interior design office and the registered furniture brand MÜNCH Furniture Design, she has also taken the path of craftsmanship early.
She has already made a name for herself in the design & art scene as a young furniture carpenter. She skillfully combines/stages fragile materials, exciting high-quality surfaces with sophisticated constructions and moves with her three-dimensional elements in sculptural spheres.
Building on a masterful education, she loves the challenge of staging things that have never existed before, both technically and artistically.
Their objects have the claim to be shown off to their best advantage, even in 360°, like a sculpture. In addition, they also have a high artistic standard.
Many are also collectors of their artwork.
Nicole Doth with artist Tim Bengel in his studio Berkheim | Mirror Table Object N. Doth
That Nicole Doth also meets the ravages of time, shows the great demand of your master & art works, which shine through individuality and authenticity. Thus it is legitimate that
each of us may represent his own reflection in life and lifestyle.
In the showroom - DESIGN ART GALLERY - in the beautiful south of Germany you can convince yourself of your quality standards.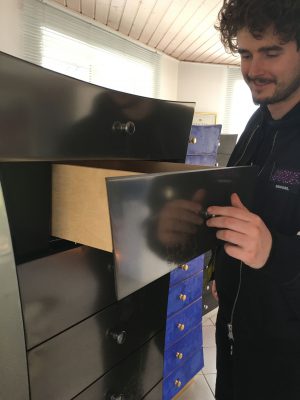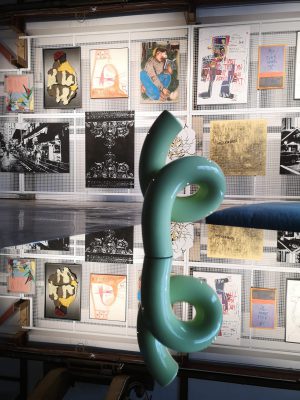 Under "Artists in Residence" the "Master" also works together with artists of different genres selected by her and thus creates unique art objects - across all genres.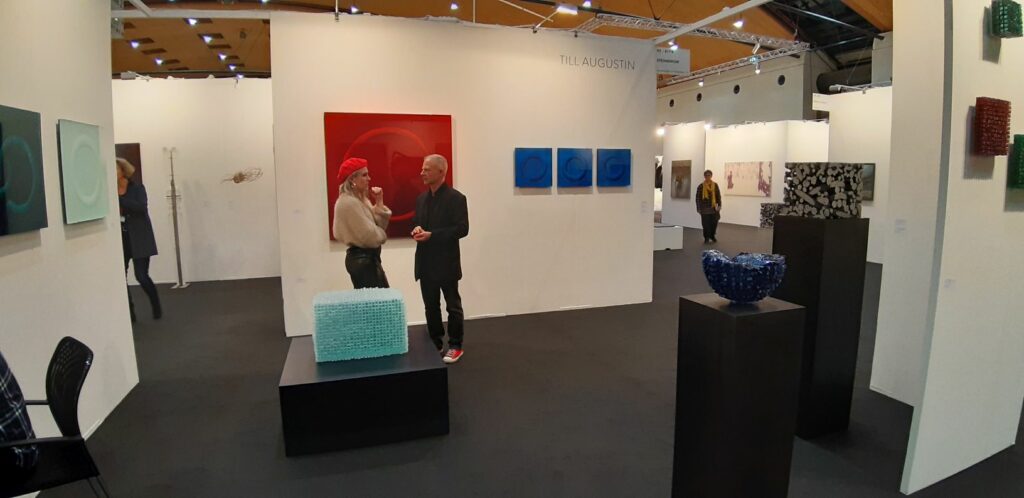 Artist Till Augustin in conversation with Nicole Doth | ART KARLSRUHE
After working in her collection 3², with the materials solid wood and solid surface (Corian), she now uses in the collection MIRRIR, MIRROR ... the filigree element of the mirror. So there are among others bed and table, bedside table collection, coffee tables, sofa and chairs, kitchen and entire mirror room installations (walls).
These objects can be well integrated no matter what style the customer lives. After all, the interior style is often a mirror of ourselves and our soul.
It doesn't matter whether we are talking about individual pieces of furniture or individually designed complete room concepts in interior design planning for the private and business sectors.
Self-determined, the customer can have his wishes fulfilled in the manufactory/studio of Nicole Doth.
Important to the designer is also the dialogue and exchange with people. Her designs also invite conversation. By listening, Doth is able to realize the visions of her counterpart - whether it is to her own taste or someone else's.
Because, what counts is: "Don't be afraid of art – habe keine Angst vor Kunst."   Nicole Doth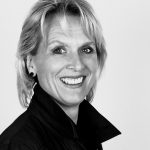 Marco Casentini, Jörg Heitsch & Ute Hartmann are looking forward to your visit.
Press article @ A. Bekturova
Art, architecture and design: a special spatial experience at Heitsch Gallery with artist Marco Casentini and
contact art design – Münch Furniture Design.
From October 9 to November 14, 2020, Heitsch Gallery presents the Italian artist Marco Casentini. The opening of COLORS OF SPACE was a great success despite the difficult current situation. In addition to presenting his latest minimalist paintings, the painter surprised visitors with a floor painting developed especially for the gallery. The bright colors and their relationship to each other are an exploration of the interplay between art, architecture and design. Keyword design: On the same evening, the new cooperation with contact art design - Münch Furniture Design, a luxury interior designer from Baden-Würtemberg with its own furniture manufacture and brand, was publicly announced for the first time. Matching Marco Casentini's strong colors, designer Ute Hartmann presents among other things a special production of her unique 90-60-90 Lapis with gold-plated handles, base and encased in an exclusive surface finish of the highest quality, deep blue lapis lazuli in 360 degree design. Ute Hartmann sees the production of her sculptureas a high form of artistic expression.
MÜNCH meets Marco Casentini at Gallery Heitsch