THE PROJECT // THE MESSAGE
M-BOX FOR ALL NATIONS | HUMAN DIGNITY
FLAGS  
Flags. What do they stand for? Do they exclude or include? Which feelings do they evoke when we see them? Flags are supposed to communicate a sense of belonging. However, sometimes they can become a symbol of exclusion and isolation, too.
We are taking a new and different approach!
"There are people behind the flags of the world, each one of them belonging to a different nation. They are a symbol for the fact that, despite all our differences, being human our the greatest common denominator."
Michael MÜNCH | MÜNCH Furniture Design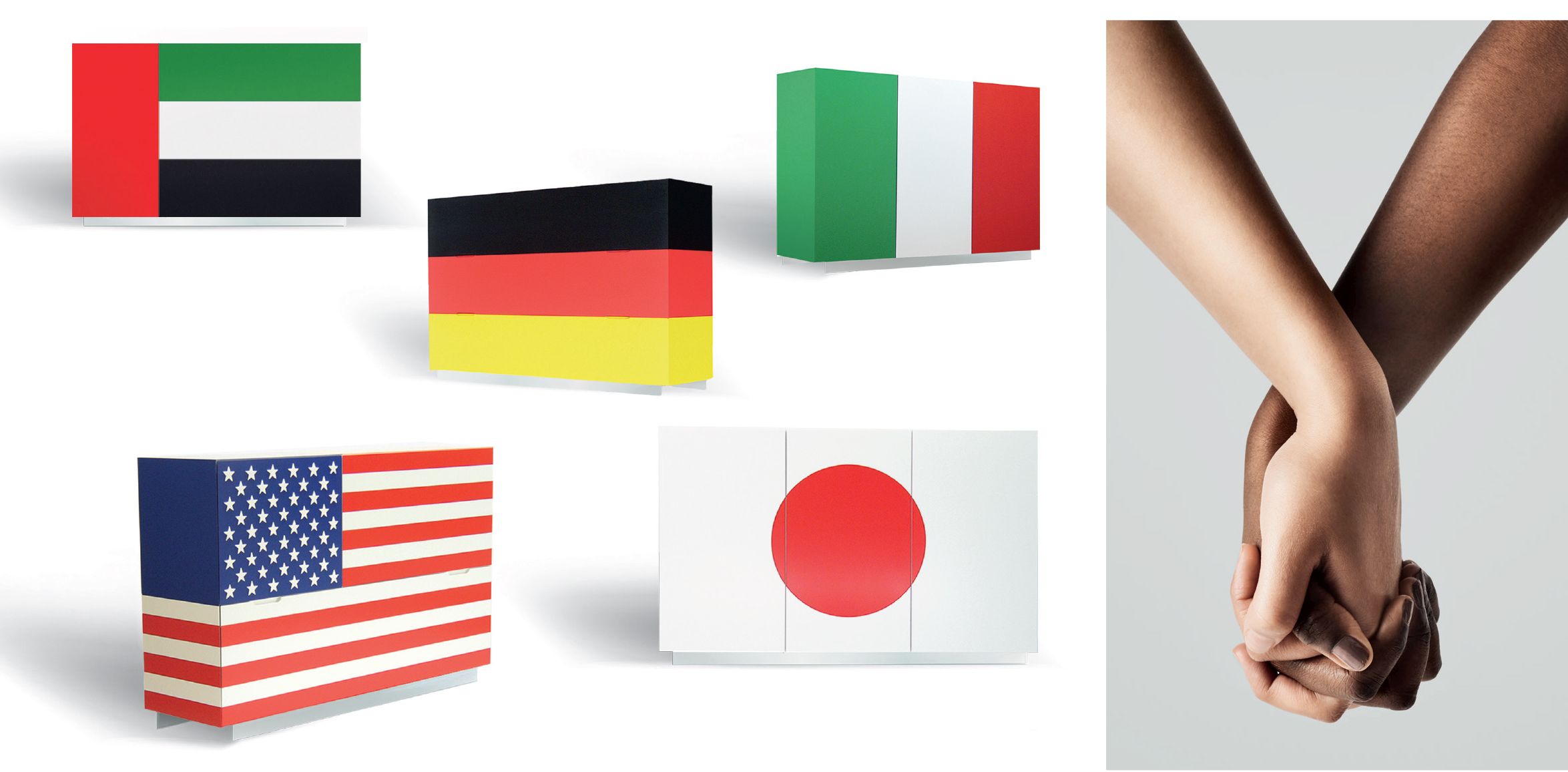 ---
THE STORY - M-BOX & M-BOX "FOR ALL NATIONS"
"With its story and its message, the M-BOX for all nations is the ideal communication tool to connect people everywhere, get a dialogue going and keep it alive." Michael MÜNCH
The idea behind the M-BOX is to create a dialogue between people from different cultures, religions, and ideologies. The M-BOX stands for international understanding and connection between all nations and is a communicator and an ambassador at the same time. Communication is a fundamental tool when it comes to developing ideas, goals and visions together and implementing them successfully. Made by master craftsmen "MADE IN GERMANY ", the M-BOX can be designed with the national flag of any nation – it's functional, individual, and completely in line with whatever you require.
---
THE PROJECT
M-BOX FOR ALL NATIONS | HUMAN DIGNITY 
Regardless of nationality, skin colour, gender or religion: We want to contribute towards connecting people worldwide and set an example for equality, tolerance, appreciation and education. HUMAN DIGNITY means HUMAN DIVERSITY.
---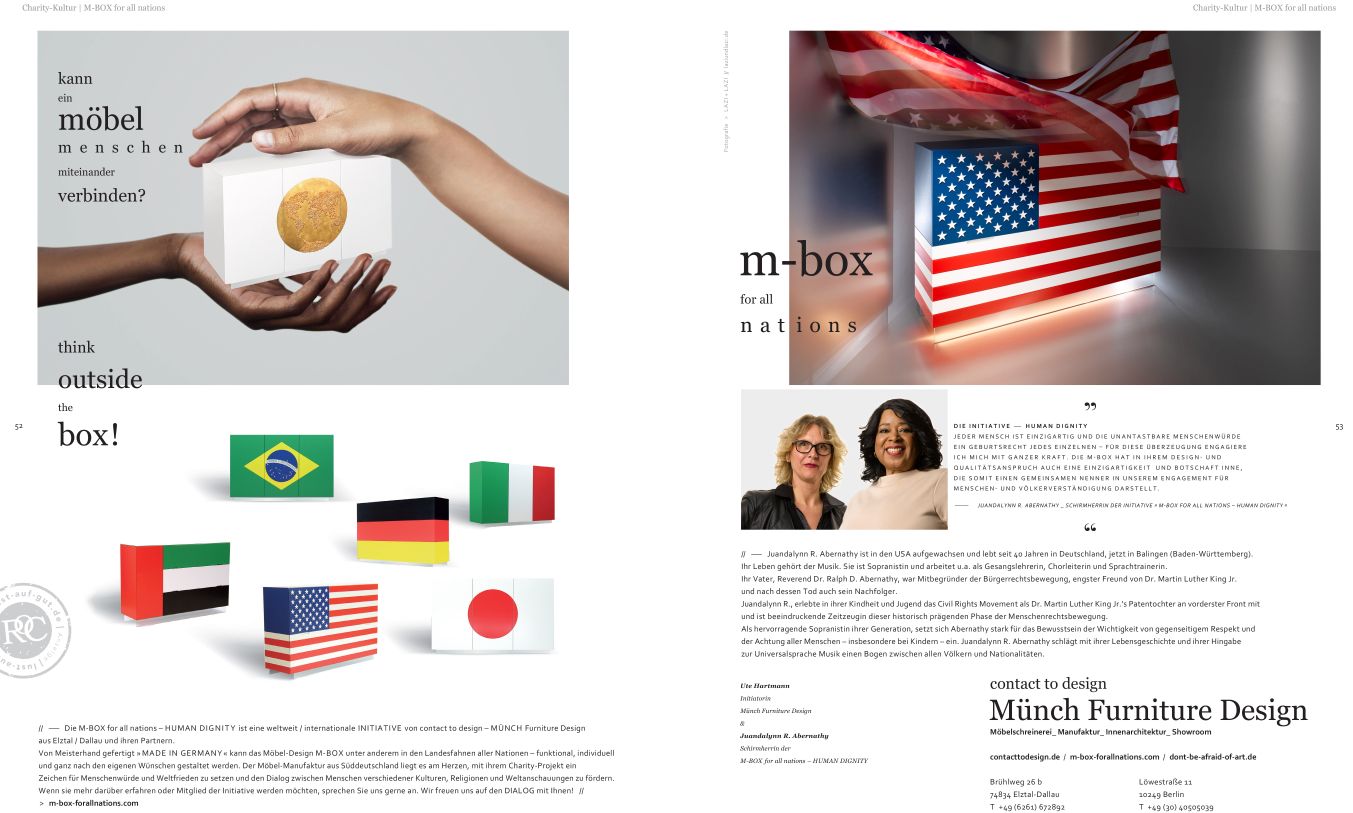 THE TARGETS
> WHY DO THEY EXIST?
Bringing people together matters greatly to us!
We think, it's important to create awareness for one another – no matter where we're from, what we do or what where our faith lies. Because we believe in committing and showing social and societal responsibility and that we are united in our desire to make the world better place.
> WHAT IT STANDS FOR
It's an irresistible invitation to EVERYONE to share the idea of international understanding and connection. It's designed to create mindfulness, tolerance, appreciation and respect for ONE ANOTHER.
UBUNTU = humanity, charity, community spirit
 And it stands for UBUNTU! 
"I exist because you exist, and it is only possible for me to exist if you exist."
The word Ubuntu comes from African languages (Zulu and Xhosa) and means " humanity and empathy for one another". It is "the belief in something universal that unites all humankind". This concept is the foundation for good and efficient cooperation. We want you to join us and be a part of this entity.
 Nelson Mandela about Ubuntu 
"The meaning of our lives cannot be found in the way we've lived them, but rather in the difference we've made in the lives of others."
> WHAT DRIVES THE INITIATIVE
The M-BOX for all nations (FAN) intends to "advertise" the idea of a worldwide dialogue between PEOPLE – CULTURES – RELIGIONS – NATIONS and hereby contributes to a beneficial and peaceful coexistence.
> HOW IT IS PRESENTED
The project becomes visible and understandable through the M-BOX / M-BOX for all nations (FAN). The functional MÜNCH furniture design is as individual as its owners and applies art & design as a "tool" to spread its message. It is a symbol that human beings are the essential link despite all national differences. This means that the M-BOX can "speak" every language in the world.
> WHAT IT'S PURPOSE?
It brings people TOGETHER. People in need and people offering support:
SPONSORS // BENEFACTORS // SUPPORTERS // COOPERATING COMPANIES
It's a large international project with a network of people who have the desire to meet, value one another, connect and make a difference together. Their sole endeavour is to strengthen the idea of WE and to carry their message into the world.
THE PEOPLE BEHIND THE IDEA
> WHERE THEY GET THEIR SUPPORT
Our supporters agree in what they do and what they think. Their mutual goals are to stand up for others, speak their minds, debunk prejudices and create something great together
> IF YOU'RE INTERESTED
Why don't you "SHOW YOUR COLOURS" - BECOME AN AMBASSADOR FOR THE M-BOX for all nations"! Tell us which M-BOX you like best and what you associate with it. Become part of the BIGGER PICTURE and support our project.
If you would like to learn more about or become a member of the project, please feel free to contact us.
We are looking forward to SPEAK to you!
THE INITIATIVE - HUMAN DIGNITY
EVERY HUMAN BEING IS UNIQUE AND THE INVIOLABLE HUMAN DIGNITY IS A BIRTHRIGHT OF EVERY INDIVIDUAL - I AM COMMITTED TO THIS CONVICTION WITH ALL MY HEART. THE DESIGN AND QUALITY STANDARDS OF THE M-BOX ARE UNIQUE AND HAVE A MESSAGE - BOTH ARE REFLECTED IN OUR COMMITMENT TO UNDERSTANDING BETWEEN ALL PEOPLE AND NATIONS.
Juandalynn R. Abernathy, patron of the initiative
"M-BOX for all nations – HUMAN DIGNITY"  
 Juandalynn R. Abernathy, patron of the initiative "M-BOX for all nations – HUMAN DIGNITY" 
Juandalynn R. Abernathy grew up in the USA and has lived in Germany since 1980. Her life belongs to music. She trained as a classical singer and works as a vocal coach, choir leader and language trainer, among numerous other projects. Her father, Reverend Dr. Ralph D. Abernathy, was the co-founder of the Civil Rights Movement, closest friend of Dr. Martin Luther King Jr. and, after Dr. King's death, his successor. Juandalynn is Dr. Martin Luther King Jr.'s goddaughter and experienced the Civil Rights Movement in the front line in her childhood and youth . She is an impressive witness to this historically formative period of the Human Rights Movement. A distinguished soprano of her generation, she is dedicated to raising awareness of mutual respect and regard for all human beings – especially for children. With her life story and her passion for the universal language of music, Juandalynn R. Abernathy overcomes differences between people of all nations and backgrounds.
Juandalynn as a child (with glasses) at The Selma to Montgomery March on behalf of the Civil Rights Movements with her father, Reverend Dr. Ralph D. Abernathy, Dr. Martin Luther King Jr. and many other supporters. ©Juandalynn R. Abernathy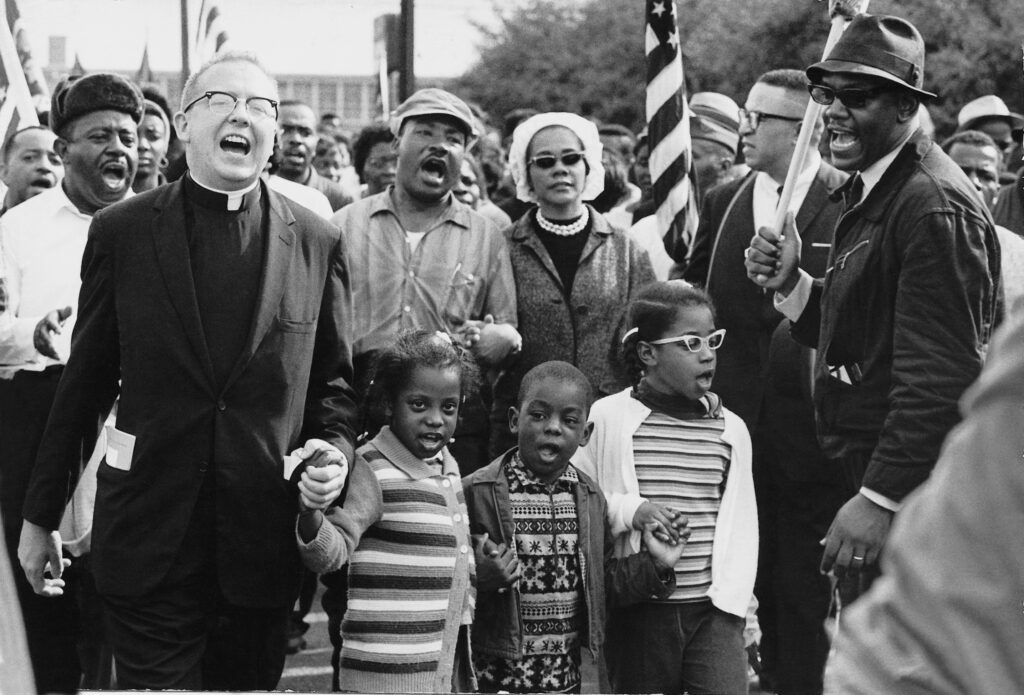 CHARITY – INITIATIVE VOICE
We are the initiator and founder of the charity initiative VOICE, and the M-BOX "for all nations" is also a project of this: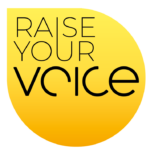 be pART of it
Become part of our network and community of interest.
Wir – als auch die Schirmherrin Juandalynn R. Abernathy Patenkind von Dr. Martin Luther King – freuen uns auf ihren Besuch und über Ihre Kontaktaufnahme.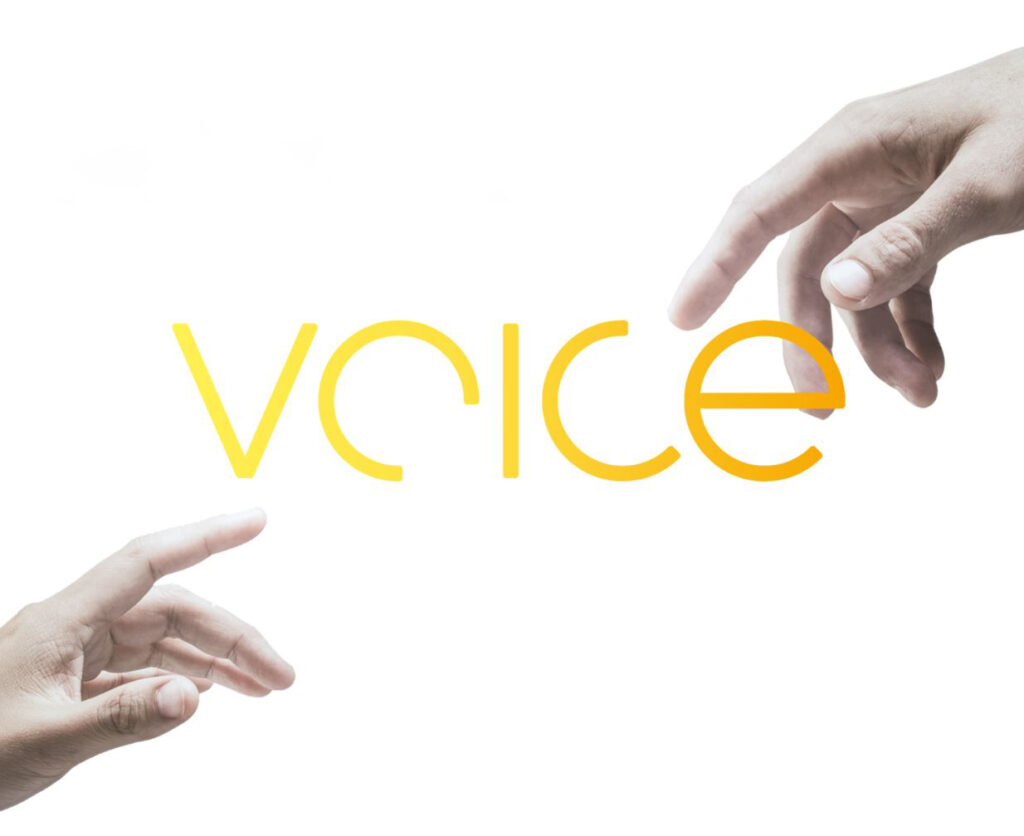 WE HOPE, WE'VE SPARKED YOUR INTEREST: